What is repositioning?
Repositioning refers to the major change in positioning for the brand/product. To successfully reposition a product, the firm has to change the target market's understanding of the product. This is sometimes a challenge, particularly for well-established or strongly branded products.
Firms may consider repositioning a product due to declining performance or due to major shifts in the environment. Many firms choose to launch a new product (or brand) instead of repositioning because of the effort and cost required to successfully implement the change.
Definition of repositioning
Elsewhere in this study guide, we have summarized the definition of positioning as:
 Positioning is the target market's perception of the product's key benefits and features, relative to the offerings of competitive products.
Therefore, in definition terms, repositioning is "implementing a major change" in the perception of the product, resulting is the relatively similar definition of:
Repositioning is the task of implementing a major change the target market's perception of the product's key benefits and features, relative to the offerings of competitive products.
This view of repositioning as being a change of the established product positioning is reinforced by the following two quotes:
"Sometimes, marketers feel the need to change the present position of the brand to make it more meaningful to the target segment. This change in position, and finding a new position for the brand, is called brand repositioning." (Vashisht, 2005).
Both definitions carry the word 'change' as the key issue. The first definition, however, suggests that repositioning is focused upon the same target market. But, as will be discussed, a product can be repositioned in order to appeal to a wider or different target market.
Why reposition a brand?
Generally brand/products are repositioned due to a concerning market situation, such as:
Decline stage of the product life-cycle (PLC)
Declining sales or profit margin due to being positioned to close to a major competitor
The introduction of a superior product by the company itself
To support an overall strategic change by the firm
To assist in entering new marketplaces or pursue new segments
The brand/product has been classified as a dog in the BCG matrix
How will repositioning a brand be helpful?
As identified in the reasons to reposition a brand listed above, repositioning is even designed to improve sales and profitability, or allow for improved strategic execution.
Working through the above list of reasons:
In the decline stage of the product life-cycle, it may be possible to effectively reposition the brand or products for a new use. An example here would be vinegar (a food product) also being used as an effective and safe cleaner for household mold
Being positioned too close to a major competitor means that the brand is constantly "sharing" sales from consumers who are seeking that set of product benefits – and this often leads to increased sales promotions are discounting. A new position will hopefully reduce direct competition and lead to more sales and profit stability.
Introducing a superior product will tend to happen in technology–driven markets, where a company is bringing out improved products consistently. Therefore, repositioning the older product will assist in reducing product cannibalization with the goal of generating higher overall sales and profits.
Taking the brand in a new strategic direction, is a major decision by a company. They may wish for the brand to be seen as more modern, innovative, convenient, helpful, and so on. In example here might be a traditional bank repositioning to be seen as a modern online bank.
Growth is often achieved by market development and a firm may find that their traditional positioning limits their growth in new markets where that original positioning may not resonate as well.
A brand/SBU that has been classified as a dog in the BCG matrix is typically considered to have limited prospects – having a relatively weak market share in a stable low growth market. Therefore, possibly repositioning will create opportunities for growth.
Related articles
Repositioning versus a new brand
The challenges of repositioning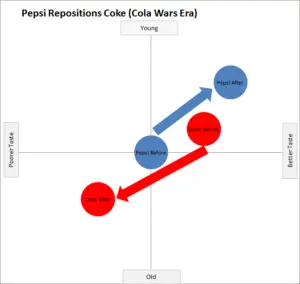 The repositioning of Coke and Pepsi in the Cola Wars
Academic readings
REPOSITIONING : MARKETING IN AN ERA OF COMPETITION, CHANGE, AND CRISIS
Repositioning Dynamics and Pricing Strategy