Segmentation topics covered in this article:
What is Concentrated Marketing?
Concentrated marketing is a target marketing strategy where the company chooses to "concentrate" on a single target market only.
Concentrated marketing can be contrasted with a differentiated marketing strategy, where a firm chooses to pursue two or more target markets with a differentiated marketing mix offering, and with an undifferentiated marketing strategy (or mass marketing approach) where the firm operates with the generic marketing mix.
The key difference for concentrated marketing is that only ONE target market is pursued by the firm, and they design their marketing mix specifically for the needs of the target market, as shown in the following diagram: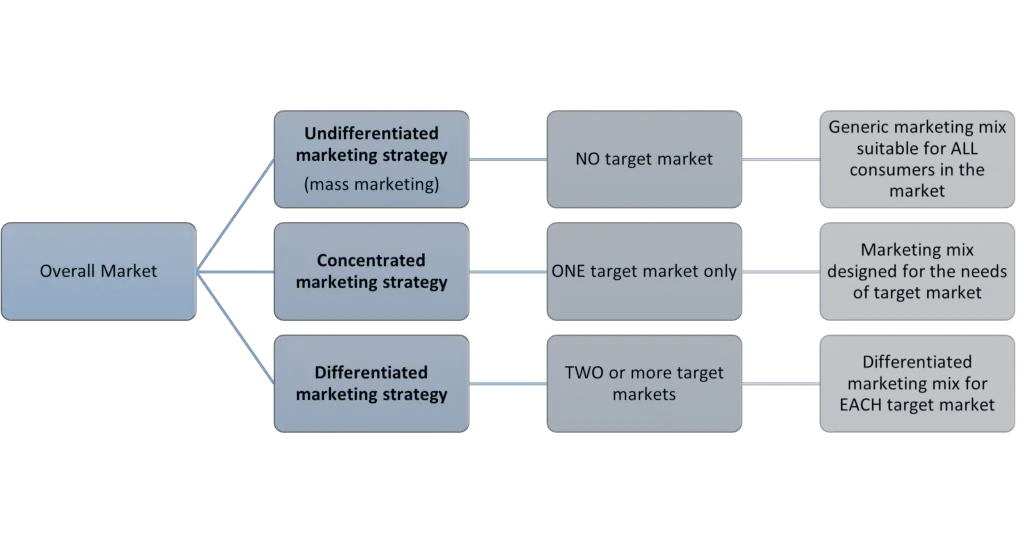 Where does concentrated marketing fit into the overall market segmentation process?
Concentrated marketing forms part of the target market selection process and occurs after the firm has undertaken market segmentation and has split the overall market into segments, as shown in the following diagram:

Once the market segmentation process has been completed, the marketer then considers which is the most attractive segment for the firm to pursue. The key aspects of determining the attractiveness of each market segment include:
Financial attractiveness = typically the size of the segment, profit potential, profit margins, price stability, segment growth rate
Structural attractiveness = degree of competitive, bargaining power of players, cost to enter/exit, aspects of consumer behavior, role of brand, market share stability
The company's objectives and resources = does the segment fit with our strategy, do we have the resources to enter successfully, does it fit with our growth goals, do we have the capabilities and expertise to be competitive?
As you can see, we are essentially weighing up external factors (financial and structural attractiveness) with internal factors (our objectives and resources). Therefore, the firm must be cognitive of its limited resources and its ability to successfully compete within different market segments. And while it may have desires to compete in multiple target markets, often this is not possible due to limited resources, especially when the business is relatively new.
This leads to a very important strategic question: how many market segments should we pursue? That is, what extent of the market will we cover?
If the firm decides that their best strategic approach is to focus on a single market segment only, then they have adopted a concentrated marketing strategy and will implement a single integrated marketing mix designed to meet the needs of that market segment.
Benefits of using a concentrated marketing strategy
When implementing concentrated marketing, one of the key benefits is that companies focus all their energies and resources on a single target market. This creates multiple advantages for the firm, such as:
They will have a clear, focused marketing strategy
They will develop a deep understanding of the target market
They have a limited and defined set of competitors that they can monitor and defend against
Indeed, a successful concentrated marketer is also likely to eliminate or reduce potential competitive threats, as there is reduced incentive to attack a successful and embedded concentrated marketer
It is easier for them to assess whether potential "opportunities" fit with their strategy
They should create efficiencies and synergies with the use of their limited resources, perhaps leading to a cost advantage
They should be able to develop strong relationships with their channel partners, such as manufacturers, wholesalers and/or retailers
They should build a strong brand reputation among their target consumers
They can potentially build strong "community engagement" with their loyal customers, leading to positive word-of-mouth
They should be able to build clear brand/product positioning
They should have a strong and stable share-of-customer, which is a key aspect of overall market share
It should be easier to identify key influencers, who may be quite supportive of their brand
Concentrated marketing also creates simplicity of choice of advertising media, as well as efficiency of promotion. Because the target market is clearly defined, it limits the choice of media and creates synergies and efficiencies
Overall, their business should be simpler to run, as compared to more complex differentiated marketing firms
It can allow smaller firms to successfully compete against larger operations, because they are focusing all their resources towards one market segment only
It can be a valuable stepping-stone to market expansion into more target markets (differentiated marketing strategy) at a later stage when they have built profits and resources
Limitations and risks of using a concentrated marketing strategy
Although there are multiple benefits of implementing a concentrated target marketing strategy, there are a number of potential limitations and risks, which include:
There is no diversity of the business, as the entirety of profitability is reliant upon one market segment
The firm/brand may end up being "under positioned", which is where consumers see the brand/firm as only being suitable for one product. This restricts future growth because it makes it difficult to expand the brand offering with new products
In some circumstances, there might be a resistance from the target market to adopt other products from the firm/brand, again limiting growth potential
Opportunity cost – there may be more opportunities in pursuing a new target market and shifting to a differentiated marketing strategy, rather than trying to drive long-term growth via a focus on a single target market
The business is at more risk resulting from changing consumer demand or needs/lifestyles
The business is also at more risk from aggressive competitors who take them on in a battle for market share
Macroenvironment trends and changes are also a greater concern for a concentrated marketer, because they are solely reliant upon a single target market, which may create greater instability in their cash flow and profits
Is concentrated marketing just the first step towards differentiated marketing?
It depends. It can be a transitional strategy for new and start-up businesses, however it can be a long-term strategy for both large and small businesses.
When concentrated marketing is the first step towards differentiated marketing
Concentrated marketing is sometimes a stepping-stone for a business, particularly a small business or a start-up business.
Obviously, small businesses and new businesses typically have limited resources and limited cash flow and limited, if any, profits. As a result, they are highly focused upon becoming profitable relatively quickly, which will then allow them to reinvest in the business for growth.
Therefore, a logical pathway is to focus on a particular target market in the early days, often with a single or limited product range, with the intention of grabbing market share (or reaching innovators or early adopters in the case of the start-up) and getting to the positive profit stage as soon as possible.
When concentrated marketing is the long-term approach
Concentrated marketing is an ideal strategy for small and local based businesses, which there are millions throughout the world. There are many small business owners who happily and successfully run a small business for themselves and/or their families and have no real plans for growth. In other words, they just prefer to work for themselves than for somebody else.
In many of these cases, these owners have no plans for substantial business growth and are happy to run a small, but steady, profitable business. This makes concentrated marketing the ideal choice for them because it is a much simpler business to run and does not usually require innovation and investment in new products and market expansion.
---
Related Articles
External Readings