What is Benefit Segmentation?
As implied by the name, benefit segmentation is splitting up the market based upon the key benefits and needs sought by purchasing consumers. As a result, benefit segmentation is a very consumer-centric approach as it identifies the core product needs of the consumers.
Note for students: in some marketing textbooks, benefit segmentation is included as a segmentation variable under the major segmentation base of behavioral segmentation, but a number of marketing takes include it under its own heading. This means that there may be four or five main consumer segmentation bases, depending upon the textbook you are utilizing.
Consumers look for sets of benefits
It is important to note that consumers will look at the overall offering of a brand and consider its value proposition = full set of benefits.
Therefore, it is important that brands offer an array of benefits to meet consumer needs and to defend against competitor offerings. While offering these benefits, they will still promote a strong and clear positioning on one or two of those benefits, in order to stand out in the marketplace and be chosen by at least some consumers as the best product for them.
By careful design of product attributes, it is possible to construct different products that will have appeal across different benefit segments. This is an effective approach to reducing the threat of competitor offerings, as well as strengthening retailer and channel relationships.
This is discussed elsewhere on the Market Segmentation Study Guide website, outlining the differences between points-of-difference and points-of-parity.
Profiling benefit segments
In addition to segmenting on the benefits sought by each group of consumers, these segments can then be profiled and described by adding demographic information and some behavioral variables, such as brand attitudes and level of consumption. This means that in addition to their core needs, we can develop a deeper understanding of the consumers within that segment.
Benefit segments and positioning
Using benefit segmentation is advantageous to deciding on product positioning. As we will know the core benefit/need being sought from the design of the segments themselves, it becomes quite clear as to how to effectively position the product for success in the marketplace.
Indeed, if there is a cluttered market with multiple similar positionings on offer, then creating additional (smaller) benefit segments will help identify new positioning opportunities.
Benefit segmentation example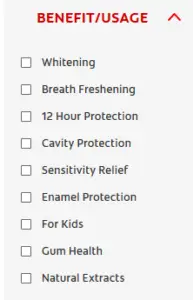 The classic example for benefit segmentation toothpaste market, where most of the product offerings are targeted at benefit segments. For example, you can buy toothpaste for:
Fresh breath
Teeth whitening
Cavity protection
Sensitive teeth
And so on
Even the Colgate website uses the word benefit when outlining their choice of products, as shown in the above image.
Benefit segmentation and the marketing mix
As discussed above, the positioning of the product becomes quite clear if you are targeting a specific benefit, as the product will have to be clearly positioned to meet that need.
Here are two examples for Colgate, the first product is positioned around "advanced whitening" and the second is positioned around "advanced whitening for sensitive teeth".
In terms of pricing, both of these product offerings would be expected too have a price premium over standard toothpaste products. And in terms of packaging information and any promotional materials, the emphasis would be built around the core benefit = positioning.
You should also note from above two examples, that firms like Colgate seek to use benefit segmentation as an aggressive competitive strategy, by eliminating potential gaps in the marketplace that their competitors could seek to leverage.
Advantages of benefit segmentation
Benefit segmentation is an effective strategic approach for cluttering the market, which would reduce the threat of new competitive products, as there are less obvious product gaps.
This is especially true if the product/brand becomes well-known by consumers for providing that specific benefit. That essentially forces competitors to compete in another benefit segment space.
Benefit segmentation also targets existing consumer needs, rather than trying to modify consumer behavior.
It is a somewhat simpler marketing approach, as it relies upon a rational purchase for a specific benefit, rather than trying to build a strong emotional connection to a brand or product offering
Benefit segmentation allows a company to introduce multiple products into the same product category, but are able to reduce the risk of product cannibalization because each product has a clearly defined benefit, and therefore a defined target market.
A generic approach to benefit segmentation
Although benefit segments need to be designed for a particular product category, here is a generic approach that may be helpful in segmenting the market on a needs-basis.
Status seekers = looking for a brand/product that will confer social status by its purchase and ownership
Innovators = looking to own the most advanced and up-to-date product in the marketplace
Brand loyals = preference for well-known and reliable and trusted brands and product attributes
Smart shoppers = seeking the best deal or the best combination of attributes
Pleasure seekers = seeking the best quality and/or most luxurious product offering
Brand connectors = looking for a brand that reflects their personality or social image
---
Related Articles
Choice of consumer segment bases
Choice of business segment bases
Academic Readings
Benefit Segmentation: A Decision-oriented Research Tool